Top 5 Cryptocurrency to Invest in 2021
January 6, 2021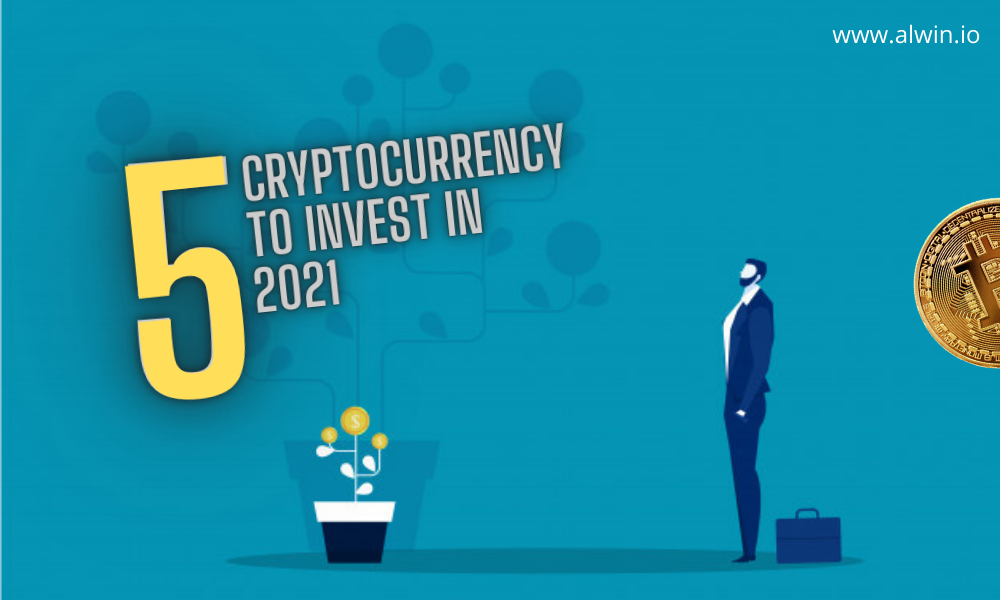 Cryptocurrencies are playing a major role in the market and have undoubtedly proven to be among the profitable investment opportunities. If you think about investing in 2021, coins might be your best and profitable option. Indeed, the crypto market has more than 500 different kinds of cryptocurrency.
Bitcoin in December 2020, has experienced a steady rise to reach all-time highs, breaking through $20,000 per BTC. To get a sense of just how troubling the market had been, just look to 2018,  Bitcoin traded for close to $13,500 after reaching an all-time high of $19,783.06 in December of 2017. Ethereum has been dropped from $1,300 to just $91 by December 2018 before rallying back to over $450 by 2020. Now, looking into 2021, the better question might be how this space will adapt in order to survive.
A look at the top 5 crypto coins to invest in 2021, and start off this 2021 on the right foot.
1. Ripple
Ripple, XRP is followed by an innovative digital payment platform used widely at RippleNet. It's major benefits include the stunningly low exchange rate and instant confirmation for your transfers due to the validation process that bypasses the central bank. In addition, Ripple uses its services with banks and other financial institutions, which, in return, adds to its reliability and supports favorable forecasts for the growth in price.
2. Ethereum (ETH)
Ethereum is the second popular crypto coin after Bitcoin, with a strong market cap. In recent months its price has skyrocketed, it now costs $579 as of November 2020. The success of Ethereum 2.0 upgrades together with the decentralized finance system among the biggest reasons for an increase. It is the second most liquid cryptocurrency in the world, which supports smart contracts, and allows for decentralized mobile applications, dApps.
3. Litecoin (LTC)
Litecoin is called the silver of cryptocurrency. The price of Litecoin is 68 dollars, as of 28/11/2020. An interesting option to consider is it has shown great results in 2020. In October 2020, Litecoin was one of the largest cryptocurrencies. It has been improving its position and became the eighth-largest.
4. Basic Attention Token (BAT)
BAT is developed by a co-founder of Mozilla Firefox, this cryptocurrency has a lot of respect in insider circles and is continuing its steady growth each year. It is typically used with Brave Browser, you can also get some BAT rewards from watching the privacy-preserving ads.
5. Bitcoin (BTC)
It is the first cryptocurrency available in the market and is referred to as the "gold of crypto coins". It has undergone a major crisis in March and is going down to a new low of $4,000 per coin due to the spread of Covid-19. Bitcoin's market capitalization is $16,000 and is expected to grow in value.
The recent forecasts are very reassuring. The funds experts and bankers claim that it could rise in price to cross the $100,000 mark by 2021. It could hit as much as $300,000 in 2021, this is more than 15 times its current value. Bitcoin is known to surprise investors.
Price Incresing, Make use of this,  And Start Your Own Crypto Exchange Today



FREE ETHEREUM EXPERT

CONSULTATION,

CLICK ME
Investing in any of these cryptocurrencies in 2021 is worth giving proper consideration.
Institutional Investors
Institutional investors allow significantly larger trading volumes than most individual investors, saying that even if fewer trading partners are transacting in the digital currency space.There are several potential developments projected to take place in 2021 that could significantly impact institutional participation in the digital currency market. Crypto will immediately get a boost in reputation and value only If crypto is floated on the Nasdaq.
Stablecoins Take the Lead
Stablecoins have a fiat backed structure and their operations and working are simple to understand. Stablecoins moves as a hedging mechanism against the potential decline of underlying cryptocurrency with collateral prices and they may be the industry's hope going into 2021.
Stablecoins may see growth in 2021 for two reasons, one is a result of the long-term instability of non-centralized tokens and second one is the current leader in the stablecoin industry, tether, is positioned to be dethroned.
Tether (USDT) is one of the earliest stablecoins which has suffered a number of growing pains while the sub-industry developed. Other stablecoins are aiming to wrench away its dominance. The popularity of cryptocurrencies have come and gone, but it's also possible that the crypto market still has a lot to go. Cryptocurrencies are once positioned to upend the entire financial system. 
The popularity of cryptocurrencies have come and gone, but it's also possible that the crypto market still has a lot to go. Cryptocurrencies are once positioned to upend the entire financial system.